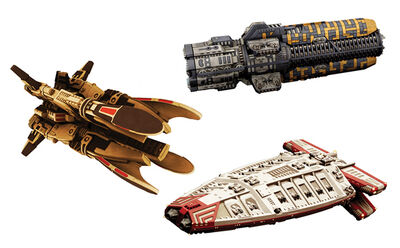 Welcome to the Firestorm Armada Wiki
Edit
This is a Wiki for the Firestorm Armada Miniatures Game by Spartan Games. This wiki is still very new, and theres lots of information about FA, so if you are a Firstorm player, feel free to register and start writing!
What is Firestorm Armada?
Edit
As mentioned above, Firstorm armada is a miniatures war game produced by Spartan Games. An excerpt from the Spartan Games website:
"Firestorm Armada puts you in the Admiral's chair, commanding fleets of high quality Spartan Games miniatures. At your disposal are squadrons of starships ranging from small Frigates to gigantic Dreadnoughts. No matter the fleet, these ships are ready to receive your orders today and charge into battle."
Latest activity
Edit